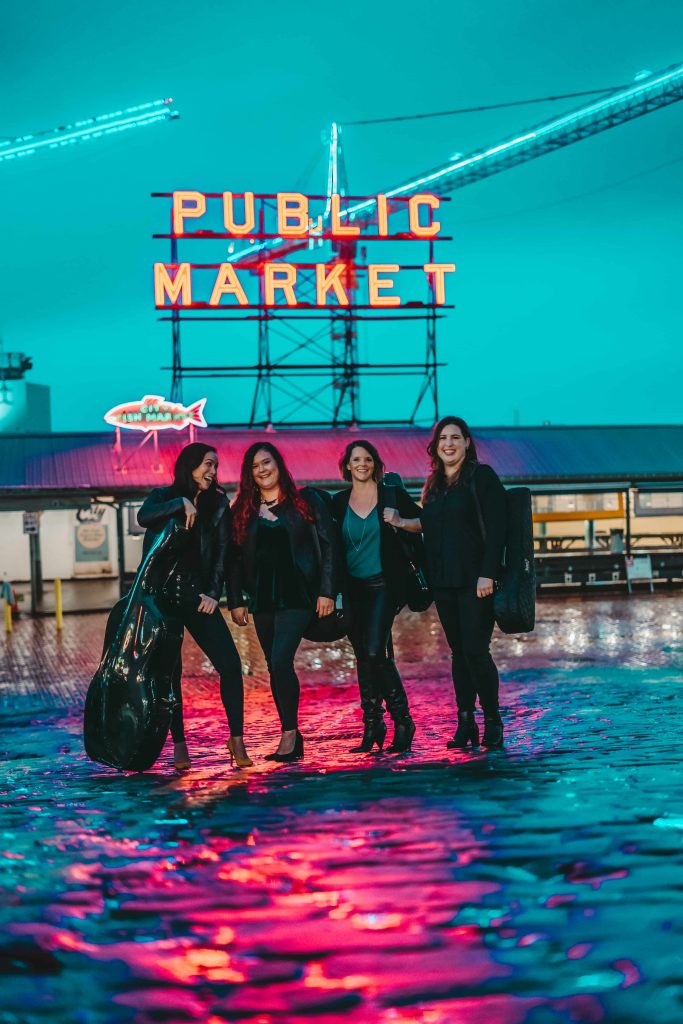 Emerald String Quartet is one of the most sought-after Seattle based ensembles for weddings, corporate events, and parties. The group performs both classical music, as well as original arrangements of popular contemporary songs, bringing a level of artistry and professionalism your guests are sure to notice!
"They are Simply the Best!!! My daughters wedding and cocktail hour were made perfect by them."
Caitlin Kelley is a talented and versatile violinist based in Seattle. She has an extensive career as a soloist, chamber musician, orchestral player, and teaching artist. Caitlin has performed with many orchestras across the country, appearing on numerous radio and TV shows. She is also a recipient of the Jack Kent Cooke Young Artist Award and has performed on NPR's From the Top. Caitlin is an avid chamber musician, has collaborated with renowned artists, and appeared at various music festivals. She is a member of Wild Up, a Grammy-nominated modern music collective, and co-founded Nightjar, a chamber music society in Seattle. As a freelance orchestral player, Caitlin frequently performs with prestigious organizations such as the Seattle Symphony, Seattle Opera, and Pacific Northwest Ballet. In addition to her performing career, Caitlin is also dedicated to education and community outreach, having founded and directed an outreach concert series, mentored young musicians, and participated in various outreach performances and tours. Caitlin received her Bachelor of Music degree and Professional Studies Certificate from the Colburn School in Los Angeles and a Master of Music degree from the Juilliard School in New York, where she was a recipient of several prestigious awards and scholarships.
Dawn Posey is an accomplished violinist with an active and varied performing, teaching, and coaching career. She is currently the Concertmaster of the Bellingham Symphony Orchestra and Assistant Concertmaster of the Northwest Sinfonietta. Dawn has performed with several prestigious orchestras, including the Boston Symphony Orchestra, Cleveland Orchestra, and San Diego Symphony. She has also been featured as a soloist with orchestras in the US and England and has worked with renowned conductors such as Daniel Barenboim and Herbert Blomstedt. Dawn is a devotee of baroque performance practice and has been a frequent guest artist with Chatham Baroque. She is a founding member of two chamber music ensembles, Kassia Ensemble and Jade Trio, and has taught at various music schools and universities. Dawn has studied with renowned teachers such as Dorothy Delay and Rachel Barton Pine. She currently resides in Seattle and continues to perform with various chamber ensembles. 
Emily Hu is a native Seattleite who believes that music is best enjoyed among friends and loved ones. She enjoys a diverse career as an orchestral cellist, chamber musician, and recitalist, performing regularly with the Seattle Symphony, Seattle Opera, and the 5th Avenue Theater, as well as with her duo partner of twenty years, pianist Thomas Lee. She is a former member of the Oregon Symphony Orchestra and has appeared at the Oregon Bach Festival and the Bellingham Festival of Music, along with many other ensembles throughout the Pacific Northwest and across the country. Emily holds a Bachelor of Music from the Shepherd School of Music at Rice University, where she studied with Norman Fischer, and a Master's degree from Northwestern University, where she was a student of Hans Jorgen Jensen. She splits her time between West Seattle and Queens, New York, and is an avid cook, dedicated weight lifter, fair-weather hiker, and late-night Netflix marathoner.
Kimberly Rosenberg is a violinist and violist from the Seattle area with a passion for theatre and chamber music. She received her Bachelor of Music with Honours from The Royal Academy of Music, London, UK in 2011 and was a member of Southbank Sinfonia's 10th anniversary year. Whilst in London, she performed as part of an on-stage string quartet, alongside actor Alex Jennings, in the West End production of, "Hymn" by Alan Bennett and was invited to be the sole
violist in London Sinfonietta Academy's debut year. Kimberly currently lives in Seattle as a freelance musician, where she can often be found playing at 5th Avenue Theatre, Auburn Symphony, Pacific Northwest Ballet, Candlelight
Concerts, and with various chamber groups.